MCA Distance Education Admission 2023: Master of Computer Applications or MCA via distance learning is a PG degree program in computer science and technology. The course covers all the necessary topics, such as computer programming, data structures, database management, software engineering, computer networks, web technologies, etc.
MCA Distance Education course prepares students with professional skills to make careers in software development, software testing, database administration, and other related fields. The duration of the Distance MCA program is usually 3 years.
MCA Distance Education in India is available for students who want to pursue careers in different fields of computer applications. There are many top-distance MCA colleges offering this degree course without any entrance exam in India. The scope for students pursuing the Distance MCA course is also very high as they get to apply for various IT jobs. 
MCA Full Form: The full form of MCA is Master of Computer Applications.
Eligibility: Students completing their bachelor's studies in the computer field (BCA preferred) get the opportunity to apply to get admission in the Distance MCA course.
Duration: The duration for completing the MCA Distance course is around 3 years.
Fee: The average fee structure of Distance MCA courses at various Universities/colleges is Rs 48,700 to Rs. 1,08,000 per year
Salary Offered: The salary package that students can get after pursuing the MCA Distance course stays around INR 3.25 LPA to INR 8.45 LPA.
Job Roles: Jobs at profiles like software developer, system analyst, mobile app developer, hardware engineer, etc. can be pursued after completing the distance MCA course. 
One of the advantages that an applicant gets after opting for admission to MCA Distance Education is that it allows applicants to complete education while pursuing a regular mode job or another course. 
Latest Updates: IMTS Institute has begun accepting applications for the MCA Distance Education course for the session 2023.
MCA Distance Education Highlights
| | |
| --- | --- |
| Course Name | Master of Computer Applications |
| Duration | 3 Years |
| Eligibility | Bachelor Degree |
| Fee Structure | INR 48,700 to INR 1,08,000 per year |
| Offered By | IMTS Institute |
| Approved by | UGC DEB |
| Level | Master |
| Admission Process | Online |
| Type | Distance |
Top Distance Learning Courses in India
About IMTS Institute
IMTS Institute offers courses in a wide variety of disciplines, such as the arts, management, IT, engineering, science, paramedical, etc. As part of the admission process, students must fill out the registration form on the official website. Our counselors then contact the students for a briefing and description. For students seeking distance education, diplomas, or other courses, IMTS Institute is a trusted institution. With 16 years of experience in the education field, the institute has secured 26k admissions.
Why Study MCA Distance Education?
MCA in distance mode is the choice of millions of graduates in India as it offers various advantages to learners. Candidates having some disability and unable to go to campus classes can also choose this course. Some other reasons are:
The fee structure is affordable for most of the students as it is lower compared to regular classes.

Less time is required for lectures and no restrictions on sitting in a specific place.

In the studies of distance MCA, a similar set of subjects is offered to the students as provided in regular universities

.
Key Features of Distance MCA
MCA Distance Education course possesses multiple features that attract students towards it. Some of the top features of the MCA ODL course are:
Skills: During the study of this UG course, you will be able to learn Data Structure Skills, Web Technology Skills, Mobile Computing Skills, C+ Programing skills, Java Skills, research, communication, and writing skills.
Time Flexibility:

There are no time-bound classes in the curriculum of this course; therefore, the students will get the option of studying as per their schedule.

Therefore, MCA distance learning from home is a fantastic choice.

Course Fee: T

he fee that students need to pay for pursuing the MCA Distance Education is also less in comparison with the regular mode course

. The average tuition cost for this MCA Distance course is between INR 48,700 to INR 1,08,000 per annum. 
Earn While You Learn: MCA in distance mode enables students to earn money along with this course due to its time flexibility.
Course Syllabus: The syllabus and the status of the course degree remain the same in the distance MCA and the regular MCA. Therefore, students won't have to sacrifice any aspect when opting for the MCA in Distance Learning mode.
Job Opportunities: MCA Distance course offered the opportunity to the pursuing students to opt for another course or a job to have both professional experience and academic excellence at a time.
MCA Distance Education Admission 2023
Admission to the MCA Distance Education course started at the IMTS Institute for the session 2023-24. Students who are aspiring for admission into the course need to submit the registration form listed above in the article and opt for the MCA course they are aspiring for admission.
Students need to fill out the registration form via online mode only, as the institute is not accepting any offline registrations. Students who complete the registration form get selected for MCA Distance Education admission by the institute directly based on their previous education scores.
The main advantage of getting admission into the IMTS Institute's MCA course is the curriculum that is derived by taking into account all the requirements and the challenges that an applicant will have to face in the course of making a career in the corporate world.
Distance MCA Eligibility Criteria
Admission to the MCA or Master of Computer Applications course via distance learning is made by the IMTS institute based on certain factors. The main eligibility criteria for MCA Distance Education are described here:
At least a 50% average is required for students with a BCA or BSc Computer Science degree.

A UGC-recognized institution must be where students complete their graduation.

In the Distance MCA program at IMTS Institute, direct admission will be offered.

Students have no age limit for the MCA course.
MCA Distance Education: Fee
Interested students or working professionals may curious about what is the fee for the distance MCA course. The average fee for MCA Distance Education in India is Rs 48,700 to Rs 1,08,000 per annum (Note: it may vary as per the University or college).
MCA Distance Education Application Form
Applicants who want to apply for MCA Distance Education from IMTS Institute have to visit the official portal of IMTS Institute. Fill out the application form with the required information in the form. Fill out the correct details in the application form. After filling in all the details, submit the application form and download the receipt, and check the fees and eligibility criteria for admission. The applicant will get a confirmation call soon.  
Is MCA Distance Education Degree valid or not?
Is distance MCA valid or not? Yes, the MCA Distance course is a valid and approved degree for students, and it will increase their chances for a successful and high-income career. University Grants Commission and DEB have approved and given validating multiple HEIs to provide Distance & online MCA courses.
Is it worth doing MCA from a distance? Students who opt for admission into the Distance MCA course get to increase their technical skills, competitive thinking, thinking, and management which will help them in working at senior profiles and leading teams alongside them.
There are multiple aspects where students pursuing the MCA Distance Education will have the upper hand when it comes to technical prospects as they will have knowledge about coding, computer applications, programming languages, etc., that will make it easy for them to match up with the professional world.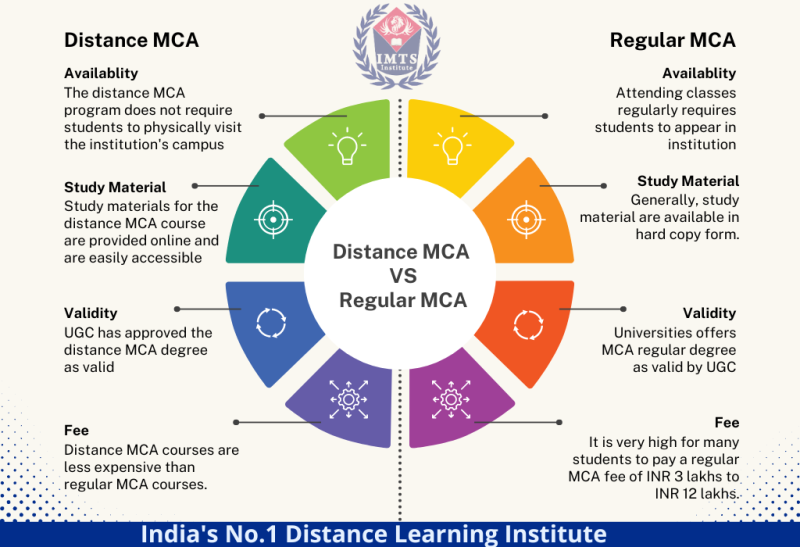 Features of MCA Distance Education at IMTS Institute
The admission to MCA, Distance course can be pursued by a top institution like IMTS Institute by completing the admission parameters, Instructions are mentioned below. It is very common confusion among students about institutes that must be chosen to study the distance MCA course. For this purpose, we provide certain key features at IMTS Institute through which students will get assured about the course. 
Excellent Academics: It is an initial step that is mostly done by students before applying to any university. Here the students are advised to check the distance MCA curriculum at IMTS Institute. It can be checked that faculty staff is well qualified and the progress reports of students. 
Placements Records: Secondly, the placements records of students who graduated by distance MCA are excellent, as many students get placed in top organizations in the tech field. This course is successful in growing better career development of students by getting good job and internship opportunities.
Dedicated Support: In order to choose the right college for MCA Distance Learning, is one of the most important factors.

Students are provided with 24/7 dedicated support for assignments, exams, admissions, and more at the right institute.
MCA Distance Education Admission Process
Students who are aspiring for admission to the MCA Distance Education course need to follow the right process so that their applications will be submitted properly. The process is listed below:
Fill the form given above on the page of the IMTS Institute, students should fill the form with the correct or authentic details

After filling up the form, our education counselor will call or email the student for assistance. 

All the information and documents asked or submitted by the students must be correct. If any of the information is found incorrect then the application will be rejected by the institution.

Pay the fee for the submission of the application form online mode like net banking, credit/debit cards, etc.

Download the confirmation receipt for the fee submission for future reference.

The confirmation of application submission will be done by the institution through the contact details provided in the application form.
Documents required for MCA Distance Education Admission
The following documents are required for admission to MCA distance education:
10th and 12th Certificates

Graduation degree Certificate 

Proof of identity (Aadhar card, passport, voter ID)

Address proof (Aadhar card, passport, voter ID)

Passport-size photographs

Admission form and application fee receipt
MCA Distance Education in India
In India, Distance MCA is available all over the state for working professionals. Being an approved and valid distance course in India is offered in various top universities & colleges. All the students who are interested can enroll for the course without visiting the institutes. There is no entrance exam conducted for MCA Distance Education in India. The degree is most pursued by students or professionals who want to work in IT firms, Digital agencies, MNCs & more.
MCA Distance Education in Delhi
Is it a dream to pursue an MCA degree through distance education mode? And looking for the best distance MCA institute in the Delhi-NCR region? IMTS Institute is one of the top leading institutes in providing distance learning MCA in Delhi. Students who wish to enroll in the distance program must meet the basic requirements for admission. Additionally, different universities and colleges in Delhi have different eligibility requirements.
Distance MCA Course Syllabus
| | |
| --- | --- |
| Semester I | Semester II |
| Fundamentals of Computer | Essentials of Operating System |
| C Programming with Data Structure | Web Technologies |
| Software Engineering | Core Java |
| Database Management System | Essentials of Networking |
| Principles and Practices of Management and Organizational Behavior | Discrete Mathematics |
| | |
| --- | --- |
| Semester III | Semester IV |
| Advanced-Data Base Management System (ADBMS) | Design and Analysis of Algorithms |
| Data Communication and Computer Networking | Information Security and Audit |
| Data Structure Using C++ | Java Programming |
| Object Oriented Analysis and Design | Mobile Computing |
| Web Technologies | Optimization Technique |
| | |
| --- | --- |
| Semester V | Semester VI |
| Software Testing | Project Work |
| Advanced Operating System | |
| Distributed Database System | |
| Network Programming | |
| Principles of Programming Languages | |
Scope for MCA Distance Education
Distance MCA is a professional and skill-oriented advanced degree program that enables learners to grow expertise in computer programming, Java, and other information technology-related subjects of learning. 
A master of computer applications degree in distance education does not retreat the hope of individuals having the opportunity to find ideal jobs for themselves in the information technology domain. 
Numerous organizations, including brands like Google, HCL, Facebook, and so on, acknowledge the value of advanced degree holders with MCA distance education and invite them to work for them at attractive packages, ranging from INR 09-16 LPA. 
The postgraduate degree holders can select job options such as software developer, web developer, mobile app developer, database administrator, system analyst, information technology consultant, and so on.
MCA Distance Education Salary
The salary structure after completing any course depends on multiple factors such as college, location, skills learned, etc. The compensation is more for experienced professionals. The average salary range after MCA distance education is between INR 3.25 LPA to INR 8.45 LPA. It also depends on the job designation for which one is hired.
Recruiters for MCA Distance Education
Distance MCA graduates are offered a very nice salary package in the IT industry. There are many IT companies in the country as well as abroad that recruit candidates who have completed their MCA through distance learning mode. Following are the top recruiters for MCA distance candidates:   
TCS   

Infosys   

Capgemini   

HCL Technologies   

Accenture
Jobs Role After Distance MCA
Demand for occupations demanding a Distance MCA degree is high in both India and other countries. Check out the list given below:
Entrepreneurship

System Analyst

Software Developer

Troubleshooter

Software Engineer

Web Designer

Technical Writer

Web Developer
Top 10 Jobs Role Salary After Distance MCA
| | |
| --- | --- |
| Top Job Profiles | Salary |
| Software Developer/Engineer | INR 5-8 Lakhs per annum. |
| System Analyst | INR 5-8 Lakhs per annum. |
| Database Administrator | INR 4-7 Lakhs per annum. |
| Network Administrator | INR 4-6 Lakhs per annum. |
| Project Manager | INR 8-12 Lakhs per annum. |
| Business Analyst | INR 5-8 Lakhs per annum. |
| Technical Support Engineer | INR 3-5 Lakhs per annum. |
| Quality Assurance Engineer | INR 4-6 Lakhs per annum. |
| Data Scientist | INR 8-12 Lakhs per annum. |
| Cloud Solutions Architect | INR 8-12 Lakhs per annum. |
MBA Distance Education (FAQs)?
Ques 1. What is the career scope after MCA distance education?
Ans. After the Distance MCA course, students can develop their skills professionally and make career scope in the IT industry of the world with an average salary of up to INR 12 LPA.
Ques 2. How much are MCA fees via distance learning?
Ans. The fees structure of MCA from distance learning is INR 48,700 to INR 1,08,000 per year
Ques 3. How to get admission into MCA Distance Education?
Ans. The admission is based on merit score applicants have to visit the institute's official website and fill out the application for admission.
Ques 4. Is Distance MCA costly?
Ans. The MCA from a distance is not expensive as compared to a regular MBA course.